Welcome to Sweet Smiles Dentistry
Hello, I'm Dr. Ramineh Kangarloo
At Sweet Smiles Dentistry located in Falls Church, Virginia, we understand how you feel and make it our mission to set your mind at ease. We see you as a person first and only begin to diagnose or treat you after we've learned about your fears, expectations, and past experiences with dental hygiene and treatment. I am passionate about helping my patients improve their oral health and achieve a beautiful smile. I invite you to an elevated dental experience. Our practice offers specialty dental services in general, cosmetic, orthodontic, endodontic, and periodontal care. Our highly trained specialists and skilled personnel with excellent bedside manners are eager to support every individual's unique dental needs.
Dr. Ramineh Kangarloo is recognized as a TOP Dentist in the Falls Church and surrounding Northern Virginia region and is featured as a Dental Expert on the TOP Doctors Interviews which are seen on CNN Headline News, FOX News, Oprah Winfrey, CNBC and other networks.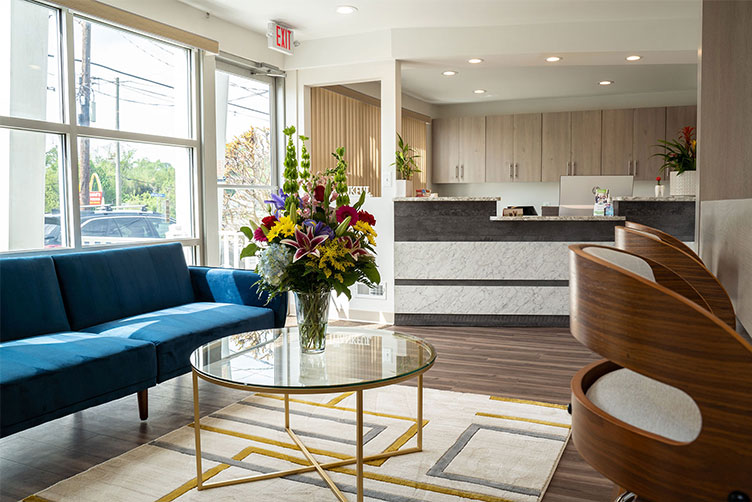 Meet Our Dentists
We are a dental practice devoted to restoring and enhancing the natural beauty of your smile using conservative, state-of-the-art procedures that will result in beautiful, long-lasting smiles!
Make an appointment today….. we'll give you a reason to smile! Contact Us Online Or Call Us at (703) 933-1121
Albedardo Flores
2022-01-27
Since coming here in December of 2021, I have been treated with nothing but the utmost kindness, respect and professionalism. Whether it is Juan or William manning the front desk, they are both very personable and easy to speak with.AnnEllen is a superb hygienist with many years of experience. She's a great conversationalist and is able to place you at ease if you are feeling any of sort of anxiety coming into the office. The office environment is very comforting as well, as if you were walking into someone's home.Overall Dr. K and everyone working in this dental practice are not only kindhearted but are able to get the job done efficiently as well.
I've been seeing Dr Kangarloo for more than 10 years. I've had braces with her and my family and friends go to her too. Everyone is always friendly and the office has a home/family vibe. I am never stressed to go into her office for treatment. She's also been accommodating for my dental emergencies and her staff follows up to make sure I'm okay. Highly recommend this office! Five stars!
Great staff, gentle treatment, cute front desk guy, GREAT COUCH!!!
Chelsea Rodriguez
2022-01-18
Been coming here for years, and the very friendly staff has never changed.
The location is clean and very accessible you arrive to a stylish interior that's well lit and very comfortable. Juan greets you with enthusiasm and compassion he explains the process easily and guides you through paperwork with no hassle. Soon after I was greeted by hygienist AnneEllen who is both very intelligent and great conversation she puts you at ease immediately and is able to not only provide a great experience but reassure you that the process will be painless and smooth, WHICH IT WAS! Soon after I met with DR.Kangarloo who was kind and calm and explained the procedure I would need (filling) and both answered any questions or concerns I may have. When it comes to your teeth it's important who you trust, why go to a corporate setting who lack concern for you or an office who wants to bleed you dry. Visit a place that feels like a family which this office truly exemplifies. Happy Customer through and through